Fexrî Ulug
Dema ku em li konserên herî qelebalix ên li cîhanê navnîş dikin, me carek cihek ji hin nav û mîhrîcanan re veqetand da ku em navnîş pir caran dubare nekin. Wekî din, me fîgurên mîhrîcanên ku rojekê derbas dikin nehesiband. Her çend ne diyar be jî, werin serdana 15 konserên herî populer a dîrokê de.
15 – Simon And Garfunkel / 1981-New York / 500,000
Li bendê bû ku 300 hezar kes ji bo dulibî rocka amerîkî ya folk Paul Simon û Art Garfunkel li Central Park di 19'ê Îlonê 1981'an de, lê dulibî karî van hêviyên xwe derbas bike û bi 500 hezar temaşevan re bibe dîrok.
14 – Genesis / 2007-Roma / 500,000
Di 14'ê Tîrmeha 2007'an de li Romayê di konsera Koma Rock a pêşverû ya Genesis de 500,000 temaşevan hebûn. Em bînin bîra xwe ku DVD'ya vê konserê jî heye.
13 – Summer Jam at Watkins Glen / 1973-New York / 600,000
Ev mîhrîcana rock, ku komên wekî Allman Brothers Band, The Band, Grateful Dead li pêşberî 600 hezar kes derketin ser dikê, xwe gihande Pirtûka Rekorên Guinness ê.
12 – Rammstein / 2013-Samara / 691,000
Koma rocka pîşesaziyê Rammstein, ku di mîhrîcana bi navê "Rock on the Volga" de derket ser dikê, li gorî hin gotegotên li vê konsera li Rûsyayê karî xwe bigihîne zêdetirî 691 hezar kesan. Koma rocka Almanî ya 22 salî li Rûsyayê bi qasî welatê xwe navdar e.
11 – Orkestra Filarmonî ya New York / 1986-New York / 800,000
Bi konsera Orkestraya Fîlarmonî ya New York'ê di 5'ê Tîrmeha 1986'an de digel 100'emîn salvegera avahiya Peykerê Azadiyê, tê gotin ku girseyek mehşerî li Central Park 800,000 kes nêz bûne.
10 – Garth Brooks / 1997-New York / 980,000
Garth Brooks, 54 salî stranbêjê pop a amerîkî, di konsera xwe de li Central Park di 7'ê Tebaxê, 1997'an de gihîşte nêzîkê milyonek kes.
9 –  Live 8 / 2005 – Philadelphia / 1.5 mîlyon
1.5 mîlyon mirov di lingê DYA'yê ya vê rêzefîlma konserê de bûn, ku di 2'ê Hezîrana 2005'an de li welatên G8 û Afrîkaya Başûr bi hevdemî hat li dar xistin. Hin muzîkvan û komên ku di vê rêxistinê de derketin ser dikê ji hêla gelek lîstikvan û lîstikvanên navdar ve hate mêvandarkirin; Black Eyed Peas, Kaiser Chiefs, Bon Jovi, Destiny's Child, Kanye West, Alicia Keys, Linkin Park, Maroon 5, Stevie Wonder.
8 – Paz Sin Fronteras II / 2009-Havana / 1,5 mîlyon
Vê bûyera, ku tê de stêrka rockê ya Latînî ya Kolombiyayê Juanes wekî paşnav derket ser dikê, temaşevanên wê nêzîkê 1.5 mîlyon bûn. Konserê ku bi piştgiriya DYA hate organîzekirin; Li Havana, paytexta Kubayê, bi karmendên xwe yên ji stêrkên pop, rock û salsa yên Latînî pêk dihat.
7 – Rolling Stones / 2006-Rio de Janerio / 1,5 mîlyon
Rolling Stones, yek ji mezintirîn komên rockê yên Brîtanyayê ku dîroka wî ji 1962'an vedigere, di 18'ê Sibata 2006'an de, rojek berî Karnavala Rio ya Brezîlya, di konsera xwe de bi 1.5 mîlyon temaşevan re civiya.
6 – Love Parade / 2008-Dortmund / 1,6 mîlyon
Navên wekî Paul van Dyk, Carl Cox, Armin Van Buuren di mîhrîcana elektronîk û dansê de Love Parade derketin ser dikê. Salên din ên herî qelebalix a Parada Evînê ev in: 1999 Berlîn, 1.5 mîlyon – 2010 Duisburg, 1.4 mîlyon – 2000 Berlîn, 1.3 mîlyon – 2006 Berlîn, 1.2 mîlyon – 2007 Essen, 1.2 mîlyon.
5 – Monsters of Rock / 1991-Moskow / 1,6 mîlyon
Lingê Moskova yê vê mîhrîcana efsanewî ya heayv metal, ku ji 1980 heta vê salê tê li dar xistin, di 28ê Îlona 1991 de pêk hat. AC / DC, Pantera, Metallica, The Black Crowers, E.S.T. mîhrîcana ku koman tê de derket pêşwaziya 1.6 mîlyon kesî.
4 – Jean Michel Jarre / 1990-Parîs / 2.5 mîlyon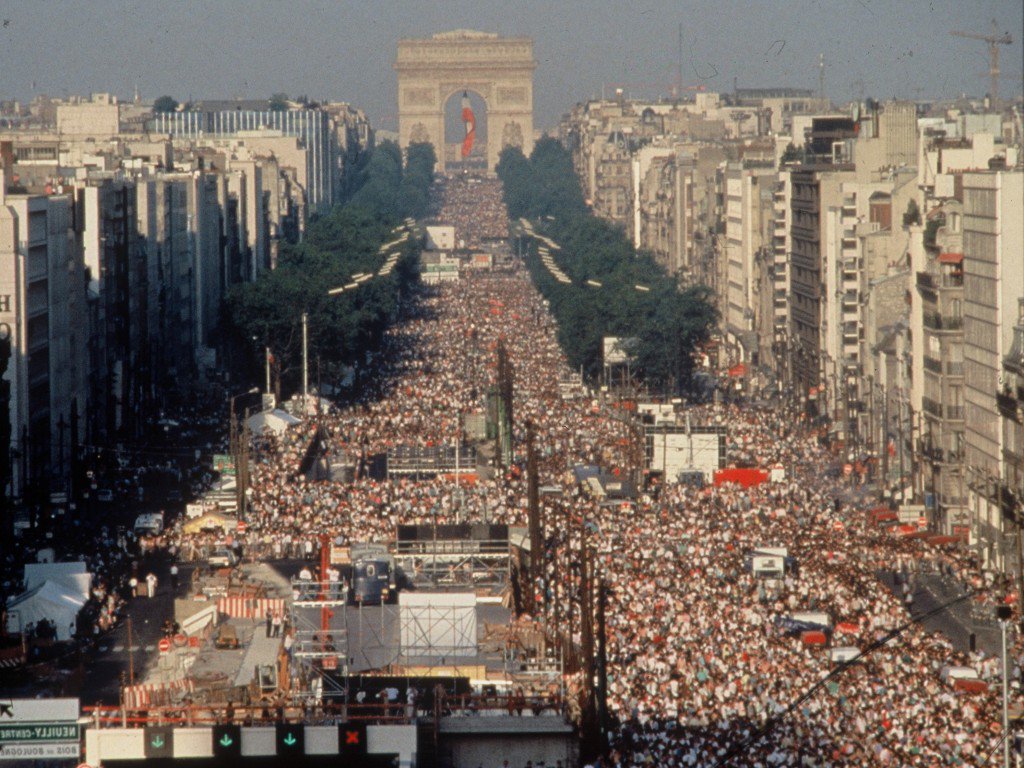 Jarre di konsera bajêr de ku ji bo bîranîna 200'emîn salvegera Şoreşa Frensî ya 14'ê Tîrmehê ku ji bo gelê Fransayê tê wateya roja herî mezin a salê, pêk hat û 2.5 mîlyon kes civiya û karibû di wextê xwe de têkeve Pirtûka Rekorên Guinness ê. Jarre du konserên din ên 1 mîlyon û 1,2 mîlyonî hene.
3 – Jean Michel Jarre / 1997-Moskow / 3.5 mîlyon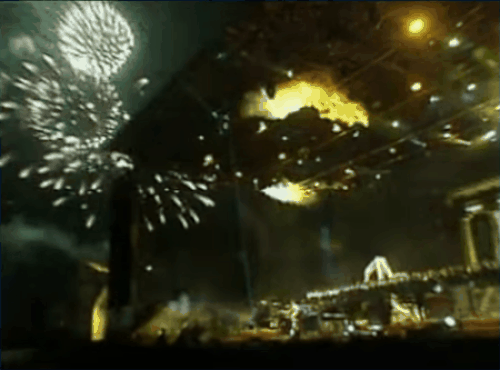 3,5 mîlyon mirov li 850'emîn salvegera bajarê Moskowê li ber Zanîngeha Dewletê ya Moskowê li pêşberî konsera Fransî yê ku 67 salî Jean Michel Jarre temaşe kir.
2 – Newroz / 2013 – Amed / 3.6 mîlyon
Newroz her sal di 21'ê Adarê de wek mîhricanekê tê pîroz kirin. Di sala 2013'dan de bi hêviyên aşitiyê girseyeke mezin kom bû bû.
1 – Rod Stewart / 1994-Rio de Janerio / 4,2 mîlyon
Hunermendê poprock ê Brîtanî 71 salî şeva 31'ê Çileya 1994'an li perava navdar a Rio de Janerio, Copacabana, di konserek belaş de li pêşberî 4.2 mîlyon mirov derket ser dikê.